The votes are in! Huge congratulations to our new House Captains and Vice House Captains...
House Captains:
Sigma: Tallulah Samociuk 12NWB
Gamma: Grace Nutbrown 12ZMN
Omega: Charlie Axon 12ECK
Delta: Jonathan Cole 12GDT
Vice House Captains:
Sigma: Seth Walker 10Y
Gamma: Eeshan Zalke 10B
Omega: Afraa Humza 10G
Delta: Isobel Lawson 10T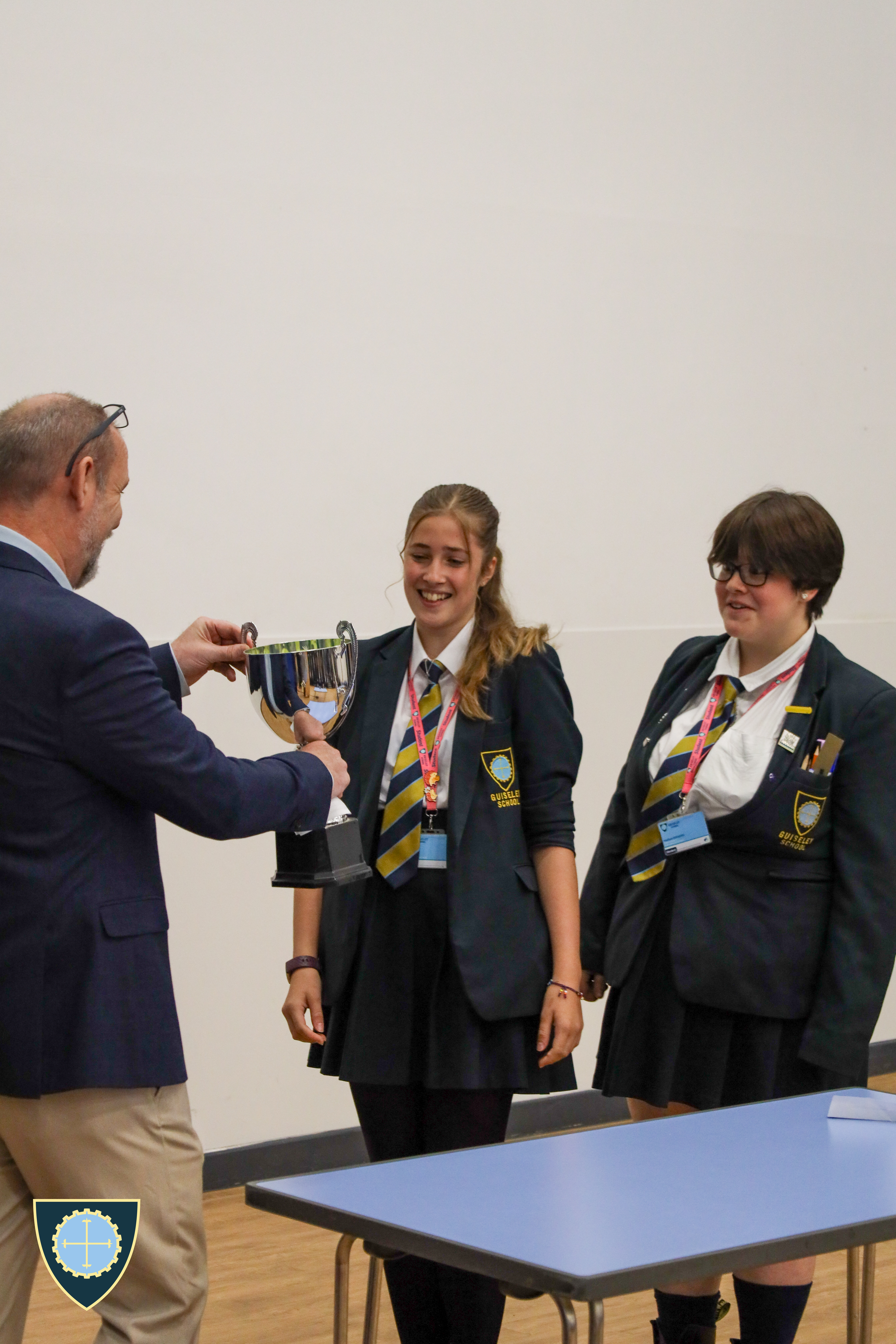 Last Years House Cup Winners, Omega, being awarded their trophy by Mr Clayton
Now the school body has decided on their captains, the next biggest task is deciding on which charities to fundraise for this school year. If you have any suggestions for this, please get in touch with your House Representative for your year group (see table below), or you can get in touch with Miss Marshall in person or through Teams.
| Year | Form | Name |
| --- | --- | --- |
| 7 | P | Isaac Rollett |
| 8 | P | Isabella Watson Chandler |
| 9 | P | Iyla Rayner Rhodes |
| 9 | G | Kannah Gulati |
| 10 | G | Afraa Humza |
| 11 | G | Joshua Crowther |
| 12 | 12ECK | Charlie Axon |
| 12 | 12ECK | Balneet Thandi |
| 12 | 12ECK | Eve Allen |
| 7 | T | Maximilian Adams |
| 8 | M | Leo Logan |
| 8 | M | Layla Qahwaji |
| 9 | T | Max Moss- Blundell |
| 9 | M | Yousuf Mohammed |
| 10 | T | Isobel Lawson |
| 10 | M | Ciara Laven |
| 11 | T | Jamie White |
| 12 | 12GDT | Jonathan Cole |
| 13 | 13LSN | Leyani Isabella Hird |
| 7 | B | Imogen Wood |
| 8 | W | Sienna Moore |
| 8 | B | George Lynes |
| 8 | B | Jacob Salmon |
| 10 | B | Eeshan Zalke |
| 11 | B | Roman Clements |
| 11 | W | James Hewitt |
| 12 | 12ZMN | Grace Nutbrown |
| 7 | Y | Sophia Lawson |
| 7 | R | Alexia Beau Humberstone |
| 8 | R | George Morris |
| 8 | R | Harry Margerison |
| 9 | Y | Chloe Doney |
| 9 | Y | Kibby Crosby |
| 10 | Y | Sam Broadbent |
| 10 | Y | Seth Walker |
| 11 | R | Rachel Wilman |
| 11 | R | Jackson Kelly |
| 12 | 12NWB | Tallulah Samociuk |
| 12 | 13RBO | Elizabeth Spence |
Published 08/11/2023